One of N's favourite activities is to label body parts – on himself, on me, on Daddy, on his toys etc. He seems to get a real kick out of this (not sure what the appeal is myself), but it got me thinking about how he learnt that vocabulary. I certainly never sat down with him and pointed out each body part in turn. But as we know, children need to hear words multiple times before they are able to understand them and begin to use them – so he must have been exposed to them plenty of times.
On reflection, I could think of loads of different occasions he would have been exposed to this language – some of it through play, and some of it through day to day routines. I thought I would share them – maybe you already do some of these with your little one, and maybe you will get some new ideas to try.
Getting dressed
When N gets dressed in the morning, and into pyjamas at night, I find myself repeating the same little phrases over and over again:
Arms up!
Legs out!
Feet in!
Not only are these simple for him to understand, therefore building his independence, but they also reinforce the body part vocabulary. As N also has eczema, we put cream on every night before bed – lately he has wanted to do some of this himself, so we normally do a little bit each. I might say "Mummy do legs. N do tummy". Now that he is getting more confident, he often tells me who is going to do what….actually, this seems to be the story of my life these days!
---
Mr Potato Head
This is actually one of my toys for work – its a great tool to use in speech sessions as kids love to 'earn' the body parts by completing their therapy activities, completing Mr Potato Head as a reward.
One day a couple of months ago, N spotted him on my shelf, and asked me to get it down. Well. It was love at first sight! That first day, he must have sat for over 30 minutes, just putting body parts in, and taking them out again. I just sat nearby, commenting very very simply on what he was doing:
'Eyes in'
'Nose in'
'Arms in'
'Mouth in'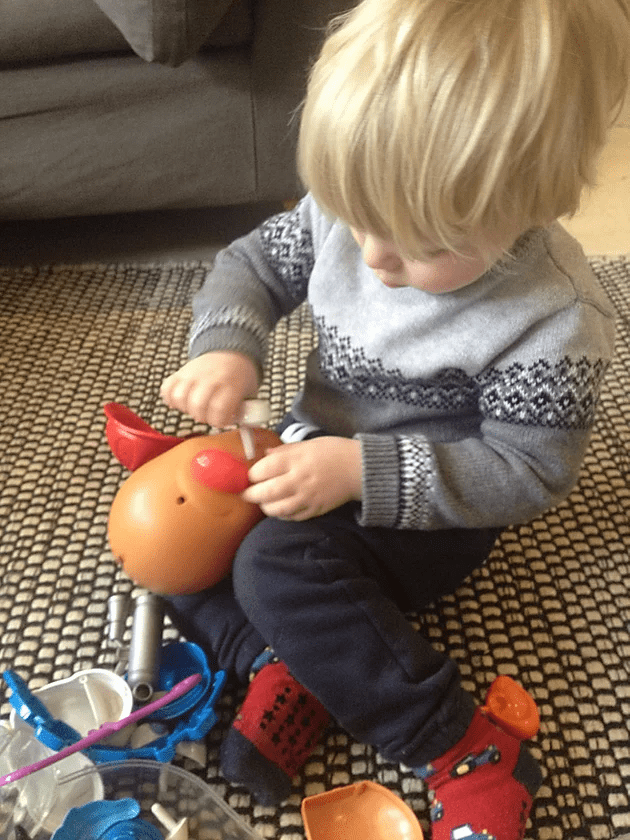 You get the picture….sounds a bit boring, but it is so key to think about the level of language your child uses, and match it.
N uses 2-3 words together most of the time, so that is what I tend to stick to. If I was to say something like 'Ooooh, look, you've put the eyes in' or 'Are you going to put the nose in next?', then that important body part vocabulary would be so much harder for him to pick up on.
Now, it is me who gets the running commentary from him, as he labels each body part as he puts Mr Potato Head together.
---
Play Doh Men
I cannot explain the excitement I felt when I discovered these little props – play doh just got a whole lot more fun. Not too much fun, mind – we do not mix colours in this house….I shudder at the thought!
Anyway – N loves these, he thinks the little characters we make are hilarious and I use them very much like Mr Potato Head – lots of simple phrases about the body parts we are using.
You can also use these to see how much of this vocabulary your child understand by asking simple questions: 'Find eyes' or 'Where's the nose?'
What activities do you do with your little ones that include body part vocabulary?
Sadly I can't find the play doh body parts for sale anywhere, but if you want to get your hands on Mr Potato Head, he is available from Amazon (and other retailers!)

---
2020 update – you can now get playdoh body parts on Amazon!